Discover how you can get into sailing
Who can go sailing?
Anyone can get into sailing! Young, old, whatever your life stage or ability. People can start sailing as a child, adult or together as a family or group of friends. Sailing can be a lifelong activity and not one you have to stop after a certain age because it's too hard on your body. Many people stay sailing well into their retirement years.
 
Rather like the plethora of car models, there are different models of boat suitable different types of sailing, life stages and abilities. There are boats specifically for children and learning, high speed and racy ones, traditional or modern and sailing boats that are ideal for people with a disability or limited mobility.
Start sailing – it's a great way to relax
If you are seeking an activity to share with the family or friends, taking up yacht sailing is a superb way to enjoy time together. You can enjoy the satisfaction of cruising to a stunning bay, mooring up in beautiful harbours or sailing to lunch at waterside destinations. You can sail further afield and cruise around the UK or even the World.
 
Alternatively, get the adrenaline flowing as you line up on the yacht race course, ready to battle to be the fastest boat around a course of racing buoys (floating navigation marks). Going sailing is an experience where you are completely at one with nature. Focusing on just the wind and waves gives an immense sense of freedom and research evidence shows it is good for your wellbeing.
 
Sailing engages all your concentration, communication and coordination skills too. It's completely absorbing and that allows your brain to leave everything else behind. In fact, research proves that it's a great way to relax and get away from the stresses of day-to-day life.
How fit do you need to be to go sailing?
Depending on the sailing you choose to do, you don't have to be fit or able bodied as there are boats to cater for all levels, abilities and disabilities. Cruising in sailing yachts and dinghies generally does not require high levels of cardio-fitness or strength.
For competitive types, some moderate fitness is idea to compete at local level, typically at a club or take part in annual big regattas. If you are aiming for racing in World class and Olympic championships, then of course you do have to be fit!
Try sailing – in a dinghy or a yacht
The principles of sailing a larger yacht or smaller dinghy are fundamentally the same. You use the wind as the main source of power to travel. You may want to try both before deciding how you want to get into sailing.
 
Sailing yachts are ideal for sailing with friends and family, especially if you want to go longer distances or stay overnight. As well as sails, most yachts have an engine as additional power for manoeuvring into and out of a harbour. 
 
Ranging from anything from 6 to 75m (the latter being large SuperYachts), typically popular modern leisure cruising yachts are around 10 – 14m long. Most modern yachts will have a cabin or multiple cabins below decks, with sleeping berths, kitchen and toilet/shower facilities known as the 'heads'.
 
Dinghy sailing takes place in smaller, open boats, around 3 to 5m long. Dinghies don't have a cabin, and are more basic, although you can carry an outboard motor on some makes.
 
Dinghies don't have a fixed keel underneath either, which means they are perfect for landing on the beach and can be easily trailed behind a car. They are mainly stored ashore when not in use. There are dinghies designed for:
children and/or adults
learning dinghy sailing through to top level racing
one, two or more crew to suit the type of sailing you want to do
They can be a fantastic way to explore inland lakes and rivers, as well as around harbours and estuaries.
Best ways to start yacht sailing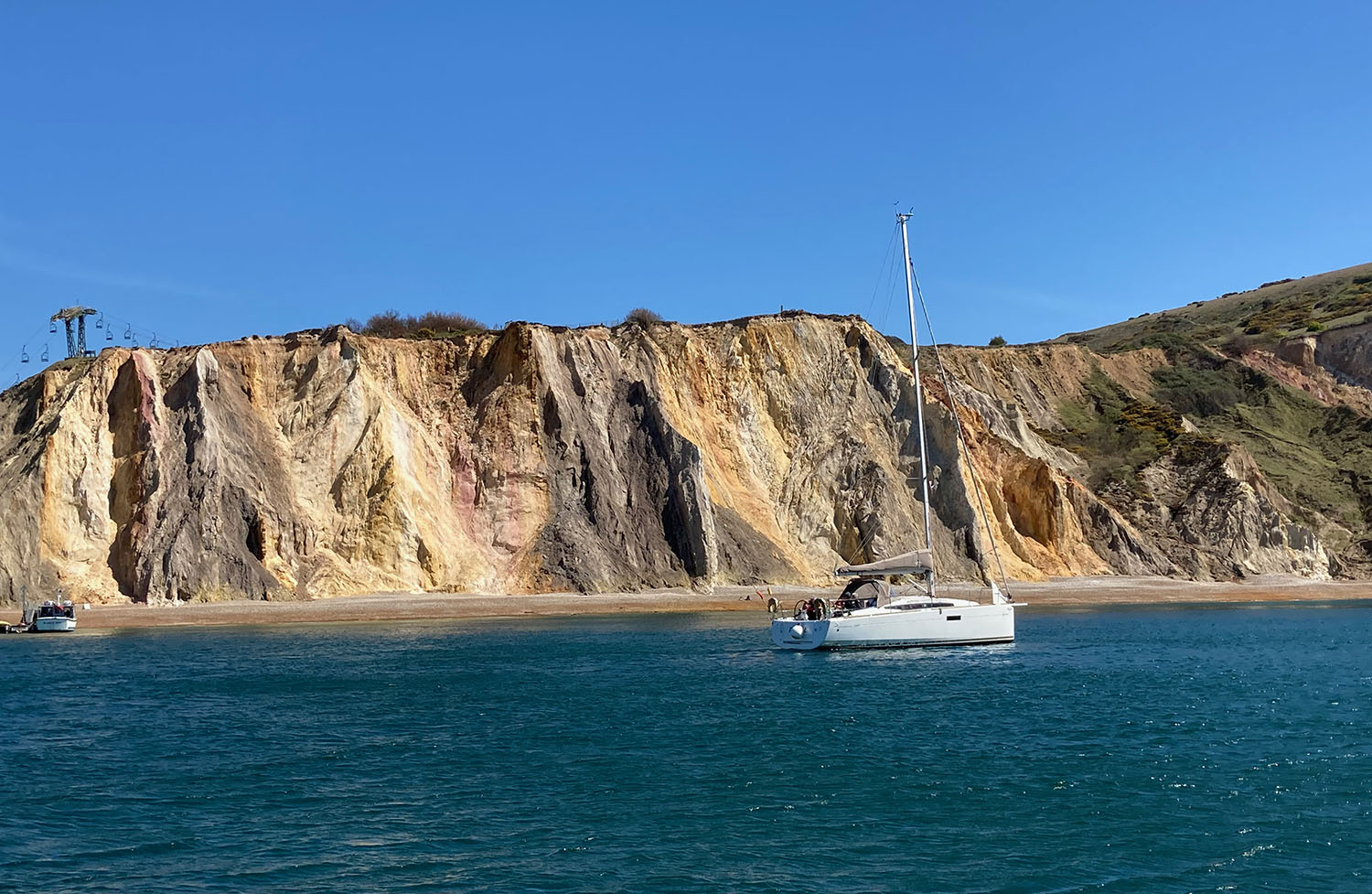 Sailing is an activity that requires learning the basic skills to ensure your maximum enjoyment, safety and fun. Signing up for a sailing course will fast track your learning curve and build up your skills more quickly. It means you are not dependent on having friends (or parents) available who can teach you.
 
The best way to start sailing is at an RYA Recognised Training Centre. This might be a specialist sea or sailing school, outdoor activity centre or a watersports holiday company. Sea schools generally focus on yacht sailing and building up the skills to cruise offshore, whereas a sailing school may offer dinghy and yacht courses.
 
The RYA Start Sailing programme is a good way to try yacht sailing for the first time. It gives you a chance to get the feel of the boat, have a go at steering, learning to handle sails, ropes and the fundamentals of boating safety.
If you've already been on a boat a few times, you may feel you can start yachting with the RYA Competent Crew course. This goes into more depth about yacht sailing with:
plenty of hands-on experience
learning to steer
general boating routines
dealing with emergencies
This course is often split over a couple of weekends. After completing this you can build more experience by getting out sailing, and there are other courses to progress to build your skippering skills.
Learn how to sail a dinghy
Similar adult and youth RYA programmes, with progressive levels, are available for dinghy sailing too. This is a popular way to start sailing as you can learn the feel of a boat and the basic skills quite quickly.
However, they can sometimes capsize if you are not paying attention, which may mean the occasional involuntary swim. All dinghy sailing courses teach you how to handle this. However, if the wet bit really doesn't appeal then you are more likely to enjoy starting sailing on a yacht.
Discover whether sailing is for you
Some Sailing Clubs offer taster sessions or open days, such as the Discover Sailing events. These events enable you to get taken out for a short 'toe in the water' session and a brief introduction to sailing. Many commercial RYA Training Centres also have starter or taster sessions. These can be an excellent opportunity to:
get a feel for if sailing is for you
ask questions
decide which is the right next step for you
How do I build up my sailing experience?
Like many activities, it's important to get out there and put what you have learned on a course into practice and build your sailing experience.
 
Mile building:
Some organisations offer mile building opportunities, where you can pay have a place on board, with a qualified instructor available, whilst you sail from place to place.
 
Join a club:
If you join a sailing club or yacht club there are often people looking for extra crew which can help build your experience. Building your skills as a crew is really important. However, make it clear you are wanting to learn and get more chances to helm, navigate and get involved with all the processes. There's also online Apps and Crewfinder sites too.
 
Flotilla sailing:
There's nothing like being able to do an activity daily to embed your skills. A flotilla sailing break is a popular choice for the novice skipper. You are booked onto your 'own boat' for the period and you'll have a lead boat with a highly qualified skipper and host to lead the fleet.
 
They will run briefings each day, offer navigation advice and be there to help on your arrival with mooring lines. They'll also often set up some great socials, so you get to meet the other like-minded sailors.
 
Flotilla sailing is often associated with the Mediterranean or Caribbean, however, you don't have to travel so far afield. It's now possible to go flotilla sailing in the UK as well.
Yacht charter:
Chartering a yacht is a superb way to get more sailing time. It simply means hiring a boat when you need it. Always book with a reputable yacht charter organisation to ensure you get out sailing on a modern, well maintained cruising yacht, with all the safety equipment ready on board for you. 
 
You'll need to show you have your Day Skipper certificate (or similar experience). The great benefit is that you don't have worry about any of the details of having your own boat – insurance, maintenance, berthing etc. You can simply focus on going sailing and having a fantastic time. You can charter a sailing yacht by the day, week or more.
Should I buy a yacht?
For some people owning a yacht is their life-long goal and all the boat maintenance and preparation is all part of the ownership experience. Boat owners can set their vessels up inside and out just how they wish.
 
Increasingly though, many people are short of time, are wanting to do other activities and yet still want to go sailing. If budgets are squeezed they may prefer not to have all the additional costs that come with owning a boat. The option to charter a sailing yacht as and when you need it, is the perfect solution and is growing in popularity.
Find out more about how to get into sailing:
BBC Sport - how to get into sailing
RNLI - how to get into sailing
Please contact us if you would like advice on how to start sailing.