6 top tips - get the most out of an autumn sailing charter in the UK
There's a lot to be said for booking an autumn sailing charter to extend your sailing season and explore in peace. In the UK it's often a much cheaper time for a yacht charter too. With people back at work and school, it's a fabulous opportunity to enjoy some beautiful sailing enjoying the glorious autumn weather.
 
So often we find the UK weather in September and October is a mix of stunning, dry warm and quiet days. And perhaps there'll be the occasional warm and cold front too. You'll enjoy a mix of fresh breezes, thrilling sailing contrasted with peaceful sunsets at anchor with just the sound of seabirds.
 
The main thing about autumn sailing, as at any time of year, is to be set up for all conditions. You can have hot and sunny one day and breeze and wet the next. Yet, some of the best sailing to be had is when everyone else is sheltering from the rain. With the right clothes and equipment, you can take advantage of the conditions and have a great sailing holiday.
Our guide below suggests how to make the most of an autumn sailing charter and the things to bring for a fun break.
1.     Empty anchorages & quiet harbours
As the towns and harbours start to empty out you can always find a marina berth and a warm shower. With less people and crowds, you get to see places in a new light. Why not try some of those restaurants that always seem to be fully booked in peak season?
 
You'll also find completely deserted anchorages and get the opportunity to anchor in the best most sheltered spots. There's no stress about 'noisey neighbours' or whether the boat next door has anchored too close to you.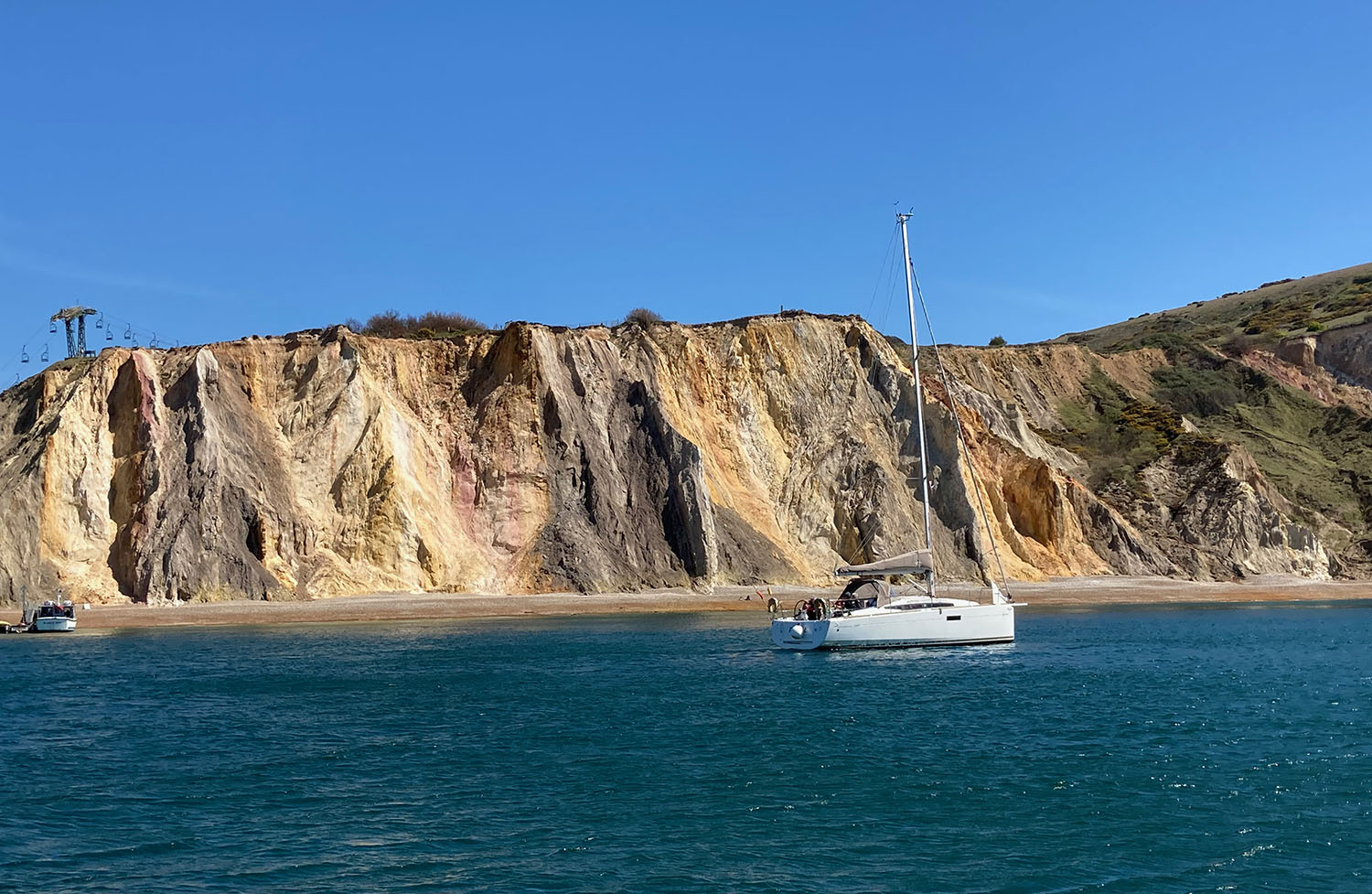 Autumn is also the opportunity to try some new anchorages and nudge into places that have previously seemed too busy. Or get the charts out, do your tidal curves and navigate into somewhere you've never visited before for a lunch stop. Always go in on a rising tide so you have your options open though!  Keep a regular eye on the wind forecasts and look for anchorages with good protection from wind and sea swell.
2.     Swim, paddle and walk
The sea temperatures usually stay warm until the end of the year. Swimming from anchor without the risk of other boats around is always a joy. Take a neoprene swimsuit or wetsuit with you. You'll feel more confident about getting in the water and not getting cold.
You can also take or hire a SUP (stand up paddle board) or inflatable kayak. If the weather is less good for sailing one day, head for somewhere you can anchor up and explore. Paddling gets you to see the places you can't necessarily get to by charter yacht. You can get much closer to nature, explore tiny creeks and quays and use them for going ashore. 
Once ashore you'll find the footpaths and villages are all generally quieter and there's usually some coastal paths worth exploring. Why not pack a picnic, pop your trainers on and hike off to discover your new cruising area.
3.    Enjoy the birds and sea life
Getting close up to the reeds you'll often see and hear a variety of sea birds. October is when the Brent Geese start to arrive whilst other species are getting ready to migrate. If you are lucky whilst you are paddling you may find some harbour seals coming to see who you are. Remember you are in the animals home – stay quiet and watch but avoid getting too close.
Autumn on a yacht can offer some excellent fishing time, with the waters less disturbed by other boat users. It can be a good time for catching flounder or hooking some of the last of the summer fish, such as bass and gurnard. Cod and whiting tender to arrive around October and you may still find some bass outside the Solent and The Needles.
4.     Half term autumn sailing charter
Why not try something different to entertain the kids at half term? An autumn charter is an excellent chance for some outdoor activity before clocks change.
 
With the waters being less busy, it's an opportunity for the family to get more sailing experience together too. With less boats around try changing roles. Everyone can practice helming, anchoring, picking up a buoy or coming alongside.
Get everyone involved in planning the day, looking at charts together, doing the navigation and using the chart plotter. If they are part of the action, you'll be amazed how this can help to engage those who are perhaps less keen or unsure about sailing.
5.     Learn some new skills
If you are all keen to get sailing and would like a bit of extra support on board, consider hiring an experienced skipper for all or part of your autumn sailing charter. Having a skipper on board for a day or two helps to refresh your skills whilst you relax into your holiday.
 
Skippers can sail the boat for you or just offer coaching that will help build your confidence on the boat.  For example, it may be that you are happy sailing but all just need some extra help berthing in marinas. What better opportunity to try different approaches with very few other people there to observe!
6.     What to pack for an autumn sailing charter
There's no such thing as bad weather! Having the right clothing, equipment, foods and accessories makes a huge difference. If the weather goes unusually warm or cold - be prepared for all conditions. That way you all get the best out of your autumn yacht charter.
 
Here's our handy checklist of equipment, clothes and accessories you may wish to bring.
Sailing Clothing:
Base layers
thermal tops
thermal leggings
Mid layers
windproof fleece or insulated jacket
soft shell trousers
Waterproofs
foul weather gear
jacket with a hood
salopettes or trousers
Footwear
Accessories:
Sun hat
Warm / woolly hat
Neck buff or scarf
Sunglasses
Sunscreen - important even on grey days to protect from UV!
Gloves
Flip flops or sliders - for the beach or the shower block
Watersports kit:
Swim suits
Wetsuit or neoprene swimwear - so you can stay in the water for longer
Light spray top or packable waterproof - for paddling or walking
Walking shoes & socks
Drybags – for spare clothes
Microfibre travel towel - for quick drying!
Creature comforts:
UGG style boots /slippers
Comfy joggers / sweat shirt
Spare fleece tops
Warm socks – especially for night
Hot water bottle – for anyone prone to cold feet
Spare towels – one for swimming & one for showers
Coat hangers – hang out wet jackets for quick drying
Equipment & activities:
Inflatable SUPs or kayaks
Body boards
Kindle or books
Board games or digital games
iPad - Podcasts & movies
Sailing books – bring that one you keep meaning to read!
Head torches - for exploring
Walking poles
Back pack
Store cupboard treats:
Hot chocolate
Tinned soups or cuppa soups – perfect for under sail
Family favourite cakes & biscuits - flapjacks are good for slow burn carbs
Pre-cook and freeze a chilli or lasagne – for a warming meal
A tin of treacle sponge pudding and carton of custard
Lucky dip sweet tin - Liquorice Allsorts & Jelly Babies are great favourites afloat
See more tips about what to bring on a yacht charter.
There's lots of benefits from chartering a boat in the UK. Read our blog on discovering the South Coast by charter yacht.